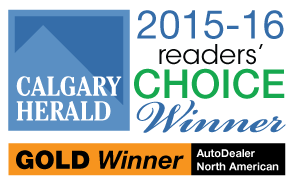 Each year beginning in 1993, the Calgary Herald has asked readers to vote for their favourites in a range of categories.
Readers are invited to go to a special website and fill out an online form with their choices. The results of this survey are tabulated, and the names of the businesses that top each category's vote totals are published in the special Readers' Choice newspaper section. 
The Calgary Herald considers the Readers' Choice Awards one of their most important and significant projects of the year, we are very proud to announce the 2015-2016 Calgary Herald Readers' Choice Gold Award Winner in the Category of "Automotive Dealer - North American"
is
Airdrie Dodge Jeep.
This honour simply proves what we have believed for over 30 years. If you treat customers the way you want to be treated, with respect and like a friend, they will come back. More importantly these treasured customers bring friends, family, neighbours and co-workers.
We have always believed that the truth, fair pricing and integrity are the cornerstone of our business. This award proves not only that, but also that we have the Best Customers in the Province! Thank you for believing in us, we will see you soon.