2014 Ram 1500 vs 2014 Ford F-150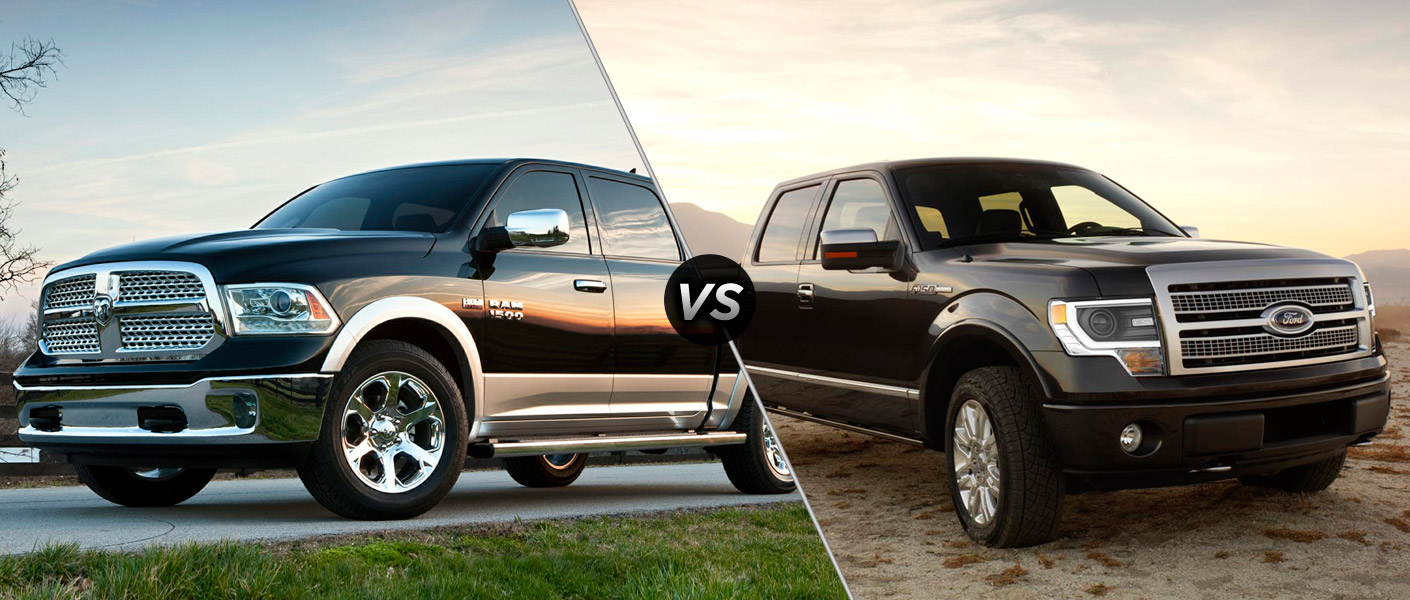 | | | |
| --- | --- | --- |
| 2014 Ram 1500 | | 2014 Ford F-150 |
| 395 horsepower | Engine power | 360 horsepower |
| 407 foot-pounds | Engine Torque | 380 foot-pounds |
| 12L/100km (20mpg) | Fuel Efficiency | 11L/100km (21mpg) |
| 5-year/100,000 mile | Warranty | 5-year/60,000 mile |
2014 Ram 1500 vs. 2014 Ford F-150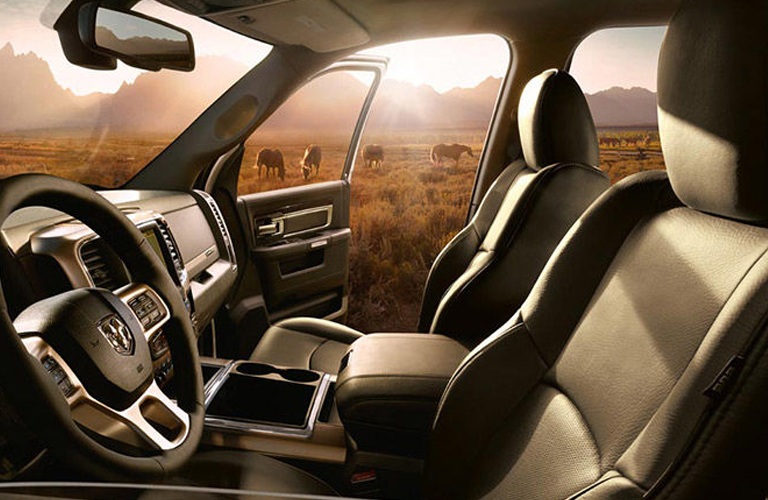 The Ram 1500 and Ford F-150 have proven to be the best selling trucks in Canada.
After comparing the 2014 Ram 1500 vs. 2014 Ford F-150 it is no surprise that these two pickups are among the top selections in the country. Each truck provides a similar fuel economy between 11 and 12L/100km on the highway. The 2014 Ram 1500, however, separates itself from the F-150 as the more powerful V8 pickup and the more protected long-term investment.
Pickup power
Cutting through mountainous terrain requires a powerful truck that can be trusted.
The 5.7L Hemi V8 under Ram's hood is as reliable as they come. In fact, superior power is one of the most striking differences in the 2014 Ram 1500 vs. 2014 Ford F-150 comparison. Ram's Hemi V8 is capable of producing 395 horsepower and 407 lb-ft of torque. The Ford F-150, on the other hand, only packs a 5.0L V8 registering 360 and 380 in horsepower and torque, respectively. With both trucks recording similar scores in fuel efficiency, the 2014 Ram 1500's Hemi power offers more pickup performance than F-150 and other V8 engines in the class.
Protection for the long haul
The warranty included with Ram trucks has differentiated Ram from competitors for a long time. The 1500's exceptional powertrain warranty tallies another win in the debate of the 2014 Ram 1500 vs. 2014 Ford F-150. A pickup's powertrain represents all of the utility inherent to the appeal of a full-size truck. Ford limits the guaranteed utility of the F-150 by only offering a 5-year/60,000 mile powertrain warranty. Ram goes above and beyond Ford by offering a 5-year/100,000 mile powertrain warranty. With the Ram's powertrain protected, the guarantee of utility and peace of mind also extend far beyond what Ford can offer.
The clear-cut winner in the clash of the 2014 Ram 1500 vs. 2014 Ford F-150 can be found at Airdrie Dodge. Airdrie carries a full line of the 2014 Ram 1500. Click to view our current inventory today to see all that Airdrie Dodge and the 2014 Ram 1500 have to offer.
Visit Airdrie of Lake Crescent, N.E. and get yourself the vehicle of your dreams - the 2014 Ram 1500!